Gemel Feed Systems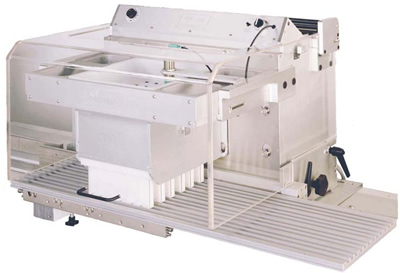 The GFS II XL is an innovative revision of our original GFS. Our design eliminates the problems inherent to dedicated feeders past and present.
By incorporating rise and fall with a small rear driven housing and simplified vertical "O" Ring gating, we know that this is one of the finest solid dose feeders of its type. Our vertical gating technique has many benefits, including: minimal cleaning up time and easy and gentle product release.
Two sizes are available:
Up to 300 mm index length on our GFS II
Up to 600 mm index on our GFS II-XL
Both sizes include our patented "O" Ring gating which is preferred over "T' pins by all of our customers.
Some other features include:
Built in the USA, patented
Tooling change over time of three minutes or less
One main housing, completely sealed
Adjustable rear mounting base
Completed control of product through delivery
Variable speed shaker box
Full guarding with safety interlocks
No tools required for changeover
GMP design in all aspects
Custom design available for your machine
Patented "O" Ring vertical gating. No "T" pins.
Up to 60 cycles per minute
110-220v –80 psi (6 bar) air
Size GFS II 480 mm wide x 550 mm deep x 400 mm
GFS II-XL 680 mm wide x 550 mm deep x 400 mm high
Complete integration into thermoforming operations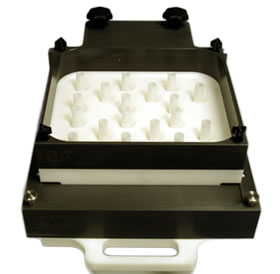 Aylward Feed Change Part
Would you like to have the option to get this dedicated feeder change part from a reputable source (other than the OEM) with savings of time and money without sacrificing quality?
Now Gemel can build Aylward™ and SimTap™ style feeder change parts using our patented "O" Ring gating system and internal stop gate plates. No more hitting against the tubes.
---
Other feed systems available:
Multiple Lane Pouch Feeders
Gravity Feeders
Flood Feeding Systems
Hopper Vibratory Infeed Systems
Change parts for OEM and aftermarket feeders utilizing our patented "O" ring gating system.
Vertical Bucket Lifts to 2200 mm
As of March 2012, we have implemented a Servo Indexer with laser web positioning for feeder testing. If you send us some formed web from your form, fill, seal machine, we can place it on the indexer, and fill the web with product to simulate the actual running of your machine. Any foreseeable issues with your feeder change parts can be addressed before it arrives at your facility.
We at Gemel can help you with pricing and deliveries on dedicated feeder change parts and complete feed systems.